It has been a rough two weeks at our house. About 10 days ago Weston's sleep habits fell apart and our big sleep stretch of four hours abruptly became one to two hours max. I am coping (barely).

In my relentless search for an explanation, a friend of mine suggested I download the Wonder Weeks App. If, like me, you haven't added this book to your parenting arsenal you really should. Here is the most important piece of information for all parents surviving on four hours of sleep followed by cranky, fussy days:

From our research, we are now able to predict, almost to the week, when parents can expect their babies to go through one of these "fussy phases."
If you don't have time to read the book, download the App! You will be asked to enter your babes due date (not birth date). You will then be able to see what stage of brain development or "leap" your little one is going through. Here is the handy chart so you can see where your baby is on this wonderful journey: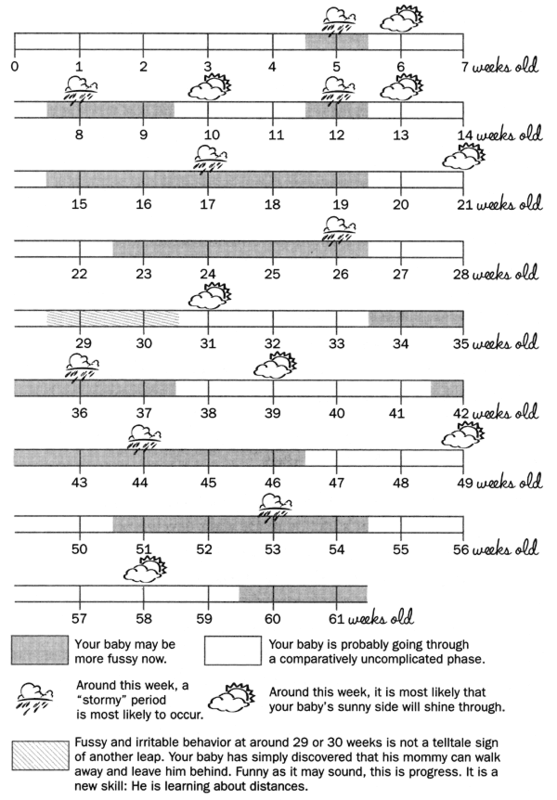 We are actually smack dab in the eye of a stormy period which honestly requires an all hands on deck approach.
While we are on the subject of Apps, here are the top three on my phone right now:
Baby Nursing - this one was invaluable in the first few weeks when I timed Weston's feeds and diapers. I now use it mostly during these rough patches to remind myself that I am not going crazy, he really is eating every hour. It also has a great height and weight trackers, as well as an immunizations log.
VSCO Cam - This App is a must have for everyone! It makes your photos look so much better. Want proof? Take a look at the amazing photos people are sharing.
Do you have any Apps to suggest?