Welcome to my new running 101 series. As I prep for my coaching exam on March 2, I thought I would share the love and maybe even help some other runners strengthen their own train gin programs.

Today's post is on periodization, or the division of your training program into three specific cycles. If you aren't familiar with periodization, this post will help you understand why you run hills, when intervals are important and how to plan for multiple events in one running season. I will keep it brief!

Using the example of a 16-week half-marathon training plan, the breakdown would look something like this:



Macrocycle - The entire 16 week period of training.
Mesocycle - Blocks of specific training that help you reach your peak. The mesocycles are most often broken down as Base, Preparation, Taper, Race (peak).
Microcycle - Your repeating pattern of workouts, most commonly planned out in 1-week blocks. Each week may include an easy run, a strength session (i.e. hills), cross-training, or intervals (speed work) depending on the focus of your mesocycle.
Here is an example of an entire macrocycle:
How your mesocycles might look: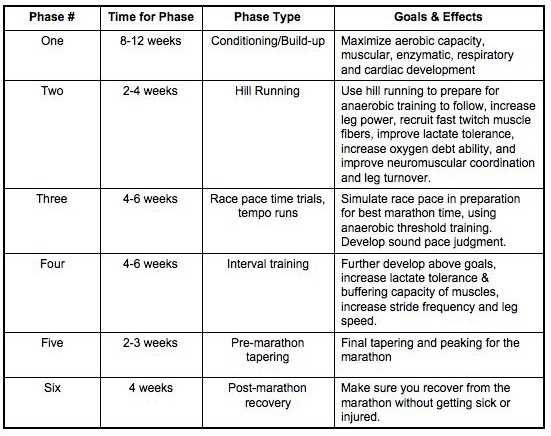 How a coach can help?
Your training plan will look very different according to your current level of fitness and your running goals. Take for example, a runner looking to complete their first half marathon versus a seasoned runner looking to qualify for Boston.
If you have multiple race goals, they will help you determine how to recover effectively and get back in peak condition for your next race.
A coach can also tailor your runs specific to your heart rate or current conditioning and help to reevaluate your goals as your conditioning improves.
I know this post was a little short so here are some more articles if you are looking for more.
Resources and Sources: